Recommended For You!
Regular price

Sale price

$6.00

Unit price

per

Regular price

Sale price

$3.00

Unit price

per

Regular price

Sale price

$8.00

Unit price

per

Regular price

Sale price

$8.00

Unit price

per

Regular price

Sale price

$8.00

Unit price

per

Regular price

Sale price

$2.00

Unit price

per
Edward Luquette Jr
Edward Luquette Jr is the founder and CEO of Texus Foods LLC, a company that produces TEXUS EAT A BOWL , a unique Texus-shaped tortilla bowl for food lovers across the Lone Star State and beyond.
Born and raised in Texas, Edward has deep roots in the local business community. He has been involved with organizations such as the Galveston Chamber of Commerce, the Houston Rodeo, the Texas Restaurant Association, Sonic Inc, and the SBA Small Business, among many others. He is a proud Texan and is passionate about promoting the state's cuisine and culture.
In 1985, Edward invented the TEXUS EAT A BOWL , a culinary innovation that has become a staple in many Texan homes and restaurants. He is a master at research and development and engineering, and has always insisted on using only the highest quality ingredients and materials in his products.
Edward's entrepreneurial spirit and dedication to excellence have earned him numerous accolades over the years. He was named Entrepreneur of the Year by the SBA through Lamar University, and his company has been featured in many local and national media outlets.
If you're looking for a unique and delicious way to enjoy Texan cuisine, look no further than TEXUS EAT A BOWL . With Edward's expertise and passion for quality , you're guaranteed to have an unforgettable dining experience.
What are Yum Yums?
Introducing Yum Yums - the irresistible Cinnamon & Sugar bunuellos that are the perfect addition to your TEXUS EAT A BOWL order. Made with the finest quality ingredients and expertly crafted, these delicious treats are sure to satisfy your sweet tooth. Each Yum Yum is carefully vacuum sealed to preserve its freshness and flavor, ensuring that every bite is as delicious as the first. Whether you enjoy them as a dessert, snack or breakfast treat, Yum Yums are a must-try for any fan of sweet and tasty treats.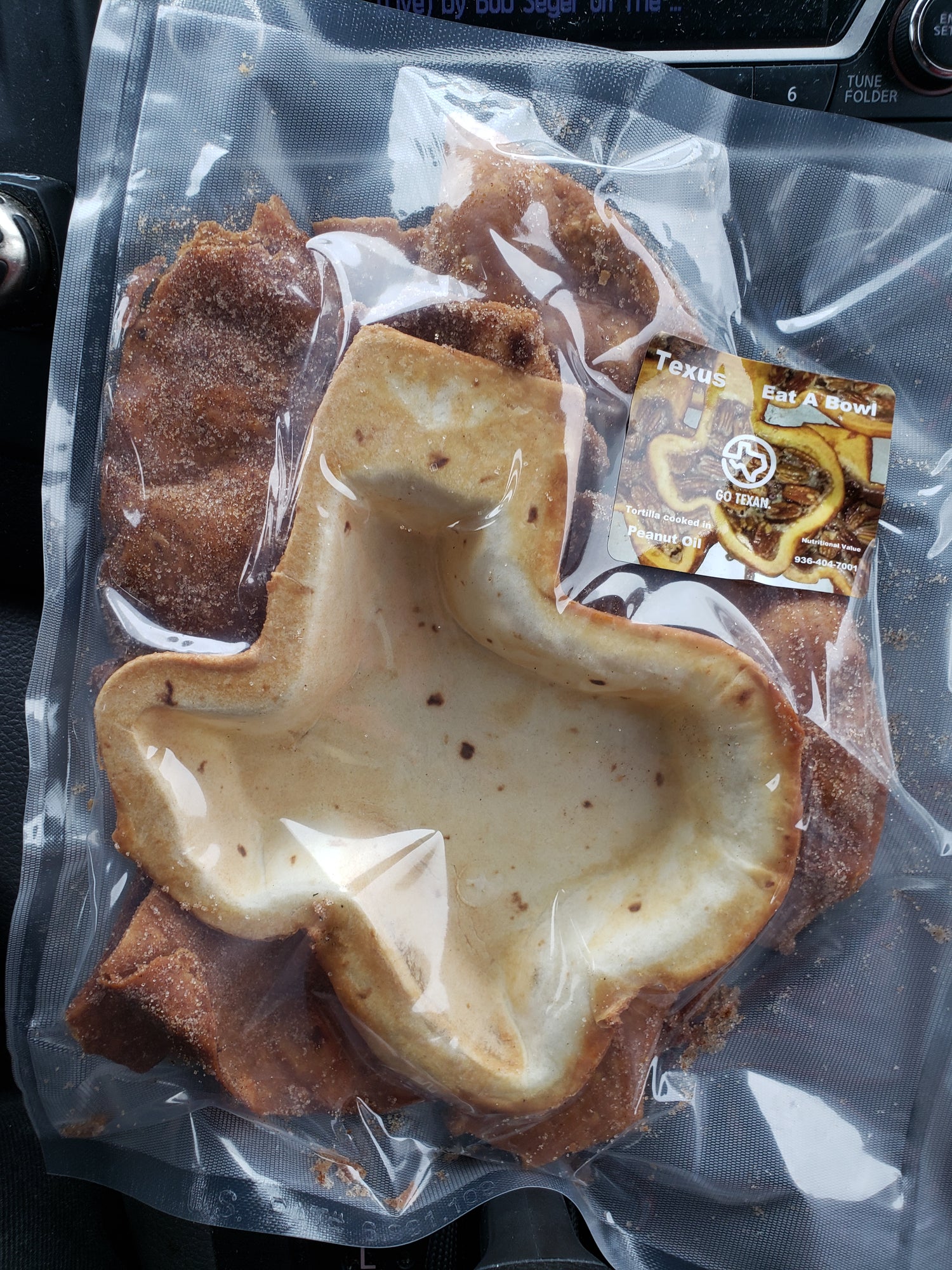 Vacuum-sealed
Introducing our vacuum-sealed Texas-shaped tortilla bowls and hard shells! Made with high-quality ingredients and manufactured to perfection, these tortillas are the perfect choice for anyone looking for a convenient and versatile way to serve their favorite foods while showing off their Lone Star State pride.
Rodeo Wagon Wheel Frying System
If you're a fan of Tex-Mex cuisine, you'll love our one-of-a-kind homemade fryer that makes Texas-shaped, bowl tortillas. With this innovative fryer, we can easily create the iconic shape of Texas in your tortillas, adding a unique touch to your homemade dishes.
Our fryer is fully automated, so we don't need to worry about shaping the tortillas ourselves or adjusting the temperature and cooking time. The machine does everything for Us, ensuring that the tortillas come out perfectly every time.